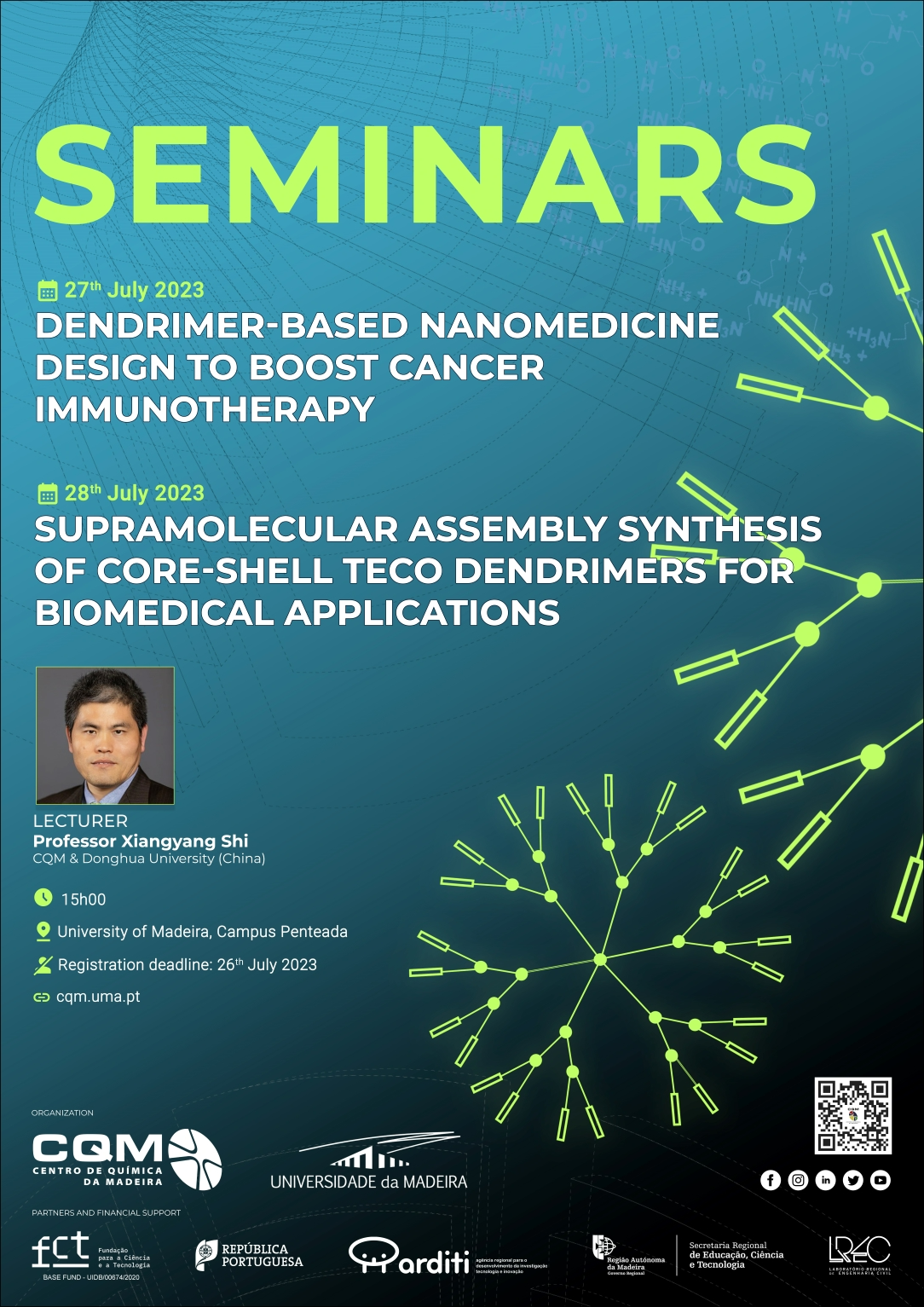 Publication Date: 25/07/2023
CQM Seminars
O Centro de Química da Madeira (CQM), no âmbito das suas atividades de formação vai promover, nos dias 27 e 28 de julho, dois seminários, intitulados, respetivamente "Dendrimer-Based Nanomedicine Design to Boost Cancer Immunotherapy" e "Supramolecular assembly synthesis of core-shell teco dendrimers for biomedical applications", conduzidos por Xiangyang Shi, Professor Catedrático convidado da Universidade da Madeira e Investigador-sénior do CQM. Estes seminários são abertos a todos os interessados mediante inscrição prévia e, particularmente dedicados aos alunos de doutoramento do Departamento de Química da UMa e aos investigadores do CQM.
O Professor Xiangyang Shi, colabora com a UMa e o CQM desde 2010, é autor ou coautor de mais de 490 artigos em revistas científicas, possuindo um h-index de 84 e 128 patentes aprovadas. Os seus interesses de investigação atuais centram-se no desenvolvimento de nanoplataformas híbridas orgânicas/inorgânicas e microfluídicas para aplicações em teranóstica, em particular para a imagiologia de precisão, tratamento do cancro e de doenças inflamatórias.
Os seminários vão decorrer na Sala do Senado, no piso -2 do Campus da Penteada, pelas 15h. A participação é gratuita, mas requer inscrição prévia, devendo a mesma ser efetuada até ao dia 26 de julho, em https://cqm.uma.pt
O CQM é uma unidade de Investigação Nacional, com sede na Universidade da Madeira, classificada com "Excelente", e apoiada pela FCT – Fundação para a Ciência e Tecnologia, pela ARDITI – Agência Regional para o Desenvolvimento da Investigação, Tecnologia e Inovação e pela SRECT – Secretaria Regional de Educação, Ciência e Tecnologia.