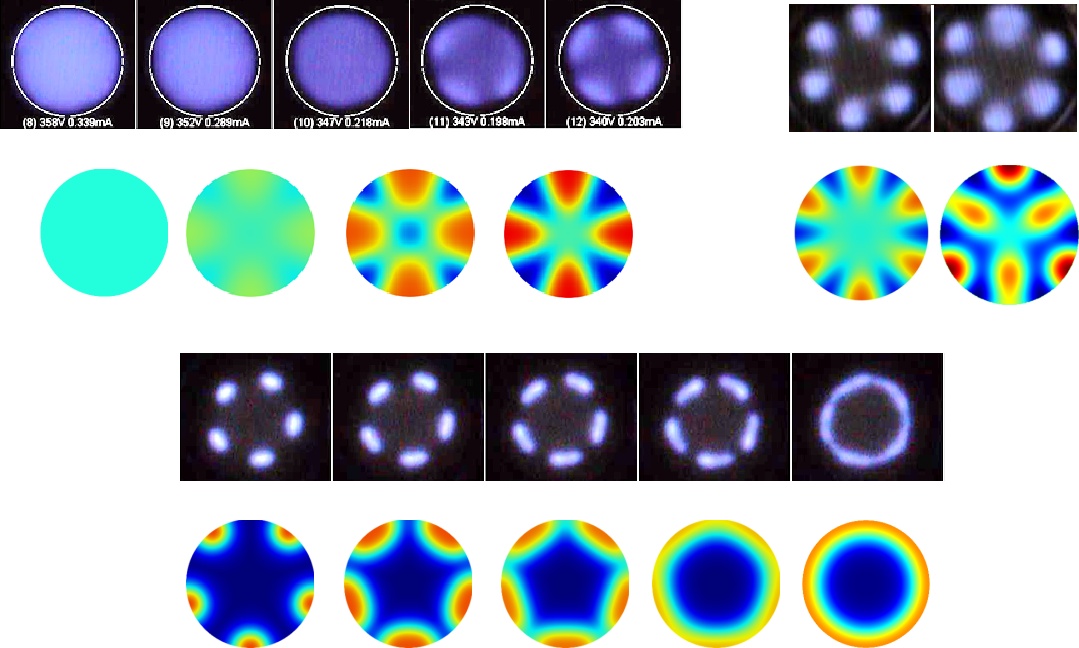 Bifurcations in the theory of current transfer to cathodes of dc discharges..
Bifurcations in the theory of current transfer to cathodes of dc discharges and transitions between different modes
Concentration of electrical current onto the surface of electrodes of gas discharges in well-defined regions, or current spots, is often the rule rather than the exception. These spots occur on otherwise uniform electrode surfaces, a regime where one might expect a uniform distribution of current over the surface. In many cases, multiple spots may appear, forming beautiful patterns and surprising the observer. Theory of different modes to current transfer to electrodes of gas discharges is an important part of gas discharge theory in general and is needed for applications.
Modern theoretical description of spots and spot patterns on electrodes of dc glow and arc discharges is based on the multiplicity of solutions: an adequate theoretical model must in some cases allow multiple steady-state solutions to exist for the same conditions (in particular, for the same discharge current I), with different solutions describing the spotless (diffuse) mode of current transfer and modes with different spot configurations. The cornerstone of the theory is the existence of bifurcations of steady-state solutions. Unfortunately, this question has not been addressed in experimental publications on observations of transitions between spotless mode and modes with different spot configurations.
Our goal was to analyse these observations with the aim to identify eventual bifurcations. We have employed a basic numerical model of glow microdischarges, which includes a single ionization channel and a single ion species, and a detailed model, which accounts for different ionization channels, different ion and excited species, and nonlocality of electron transport and kinetics.
We have computed the relevant bifurcations and spot patterns, and found that the latter conform to spot patterns observed in the course of the corresponding transitions in the experiment. While the comparison between the theory and the experiment still remains qualitative, the agreement is convincing and lends further support to the theory.
GO TO IPFN