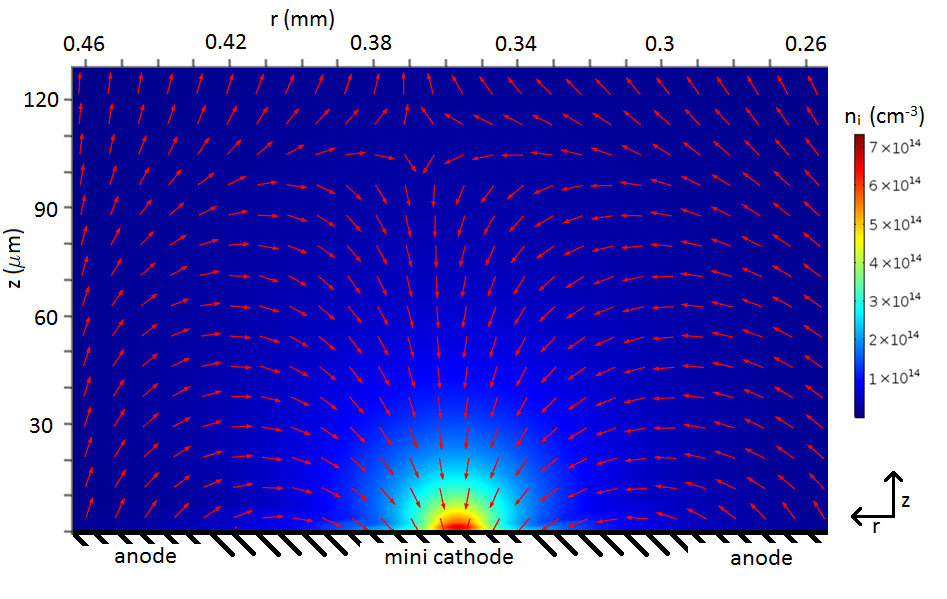 Modelling anode spots in a DC glow discharge
Beautiful patterns on anodes of DC glow discharges have been observed for over a century. In addition to being of significant theoretical interest by themselves, self-organized patterns on liquid anodes of atmospheric pressure glow microdischarges reveal a non-trivial cancer-inhibiting capability.
Our goal was to compute self-organized patterns of spots on a flat metallic anode of a glow discharge. We have employed a standard model of a glow discharge in a computational domain comprising the near-anode region.
We have computed multiple solutions existing in the same range of discharge current and describing the spotless mode and modes with patterns of anode spots. In contrast to dc glow and arc discharges, multiple steady-state solutions describing different modes of current transfer do not reveal bifurcations. We found that the existence of multiple solutions in this case is a consequence of the change of sign of the anode sheath voltage. The computed spots exhibit a double layer-type structure and a reversal of electric field and current density.
GO TO IPFN