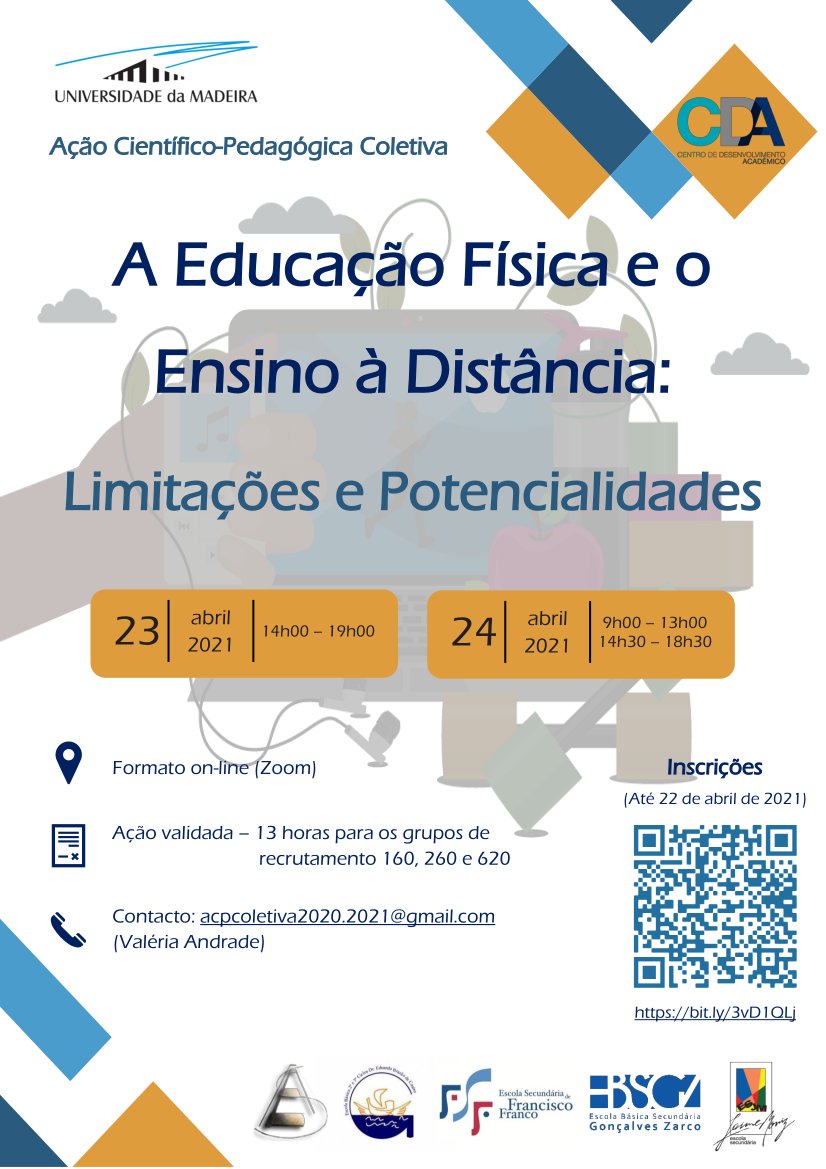 Publication Date: 26/03/2021
Collective Scientific-Pedagogical Collective Action "Physical Education and Distance Learning: Limitations and Potentialities".
A Universidade da Madeira (UMa) vai levar a cabo, nos dias 23 e 24 de abril, a Ação Científico-Pedagógica Coletiva: "A Educação Física e o Ensino à Distância: Limitações e Potencialidades".
A ação irá decorrer entre as 14h e as 19h, no dia 23, e das 09h às 18h30, no dia 24 de abril, no formato online. Tem como objetivo principal compreender as potencialidade e limitações do ensino à distância na Educação Física, equacionando estratégias e fornecendo ferramentas didáticas que otimizem um processo pedagógico personalizado
Esta iniciativa insere-se no âmbito do Estágio Pedagógico do 2.º ano do Mestrado em Ensino de Educação Física nos Ensinos Básico e Secundário da UMa e será realizada pelos alunos estagiários, com a supervisão dos orientadores científicos e cooperantes, a colaboração de preletores convidados, e o apoio do Centro de Desenvolvimento Académico da UMa.O programa está organizado em cinco módulos e contempla quatro conferências, que serão proferidas por Marco Gomes (Diretor Regional da Educação), João Martins (docente da Faculdade de Motricidade Humana da Universidade de Lisboa), Élvio Gouveia (docente da Faculdade de Ciências Sociais da UMa), e por Roberto Gouveia (Ginásio Platinium).

A ação está englobada na formação contínua de educadores e de professores, no sentido de fornecer uma abordagem prática, facilmente aplicável, através de situações de aprendizagem que procuram acompanhar as tendências evolutivas culturais de uma sociedade em constante mudança. Está validada, em 13 horas, pela Secretaria Regional de Educação, Ciência e Tecnologia para os grupos de recrutamento 160, 260 e 620.
As inscrições decorrem até ao dia 22 de abril de 2021. Clique aqui para aceder ao formulário de inscrição/ver programa.