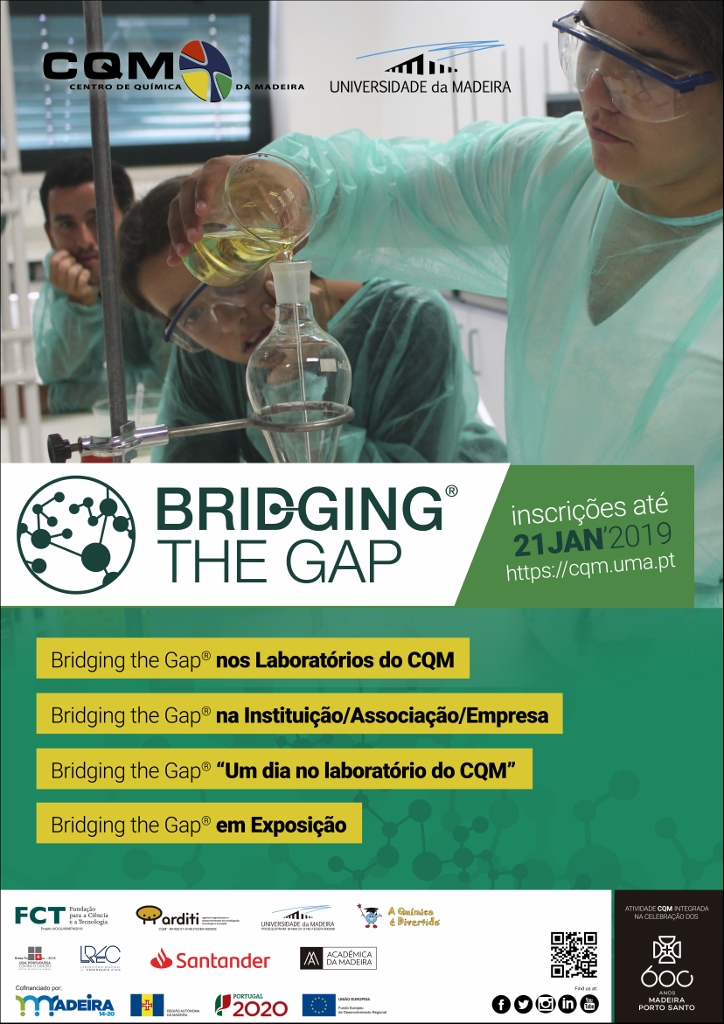 Publication Date: 08/01/2019
Bridging the Gap® - Registration open until January 21
Pelo quarto ano consecutivo, o Centro de Química da Madeira (CQM) vai levar a cabo o projeto de divulgação de ciência "Bridging the Gap®".

As inscrições já estão abertas e devem ser realizadas até ao dia 21 de janeiro de 2019.

A edição deste ano insere-se no programa de comemorações do Ano Internacional da Tabela Periódica e integra quatro planos de atividades distintos onde os participantes terão a oportunidade de ficar a conhecer os laboratórios e os investigadores do CQM, de acompanhar experiências lúdico-didáticas e de participar em palestras e exposições.

O projeto "Bridging the Gap®" foi lançado em fevereiro de 2015 e tem como principal objetivo a divulgação da ciência pelas escolas, lares de terceira idade e outras entidades interessadas, procurando educar e sensibilizar a sociedade para a importância da ciência, nomeadamente a Química e a Bioquímica, para o desenvolvimento socioeconómico da região. Alem disso, visa também contribuir para um maior grau de educação científica da população da Madeira e Porto Santo, servindo de modelo para, futuramente, vir a ser aplicado a outras regiões do País.