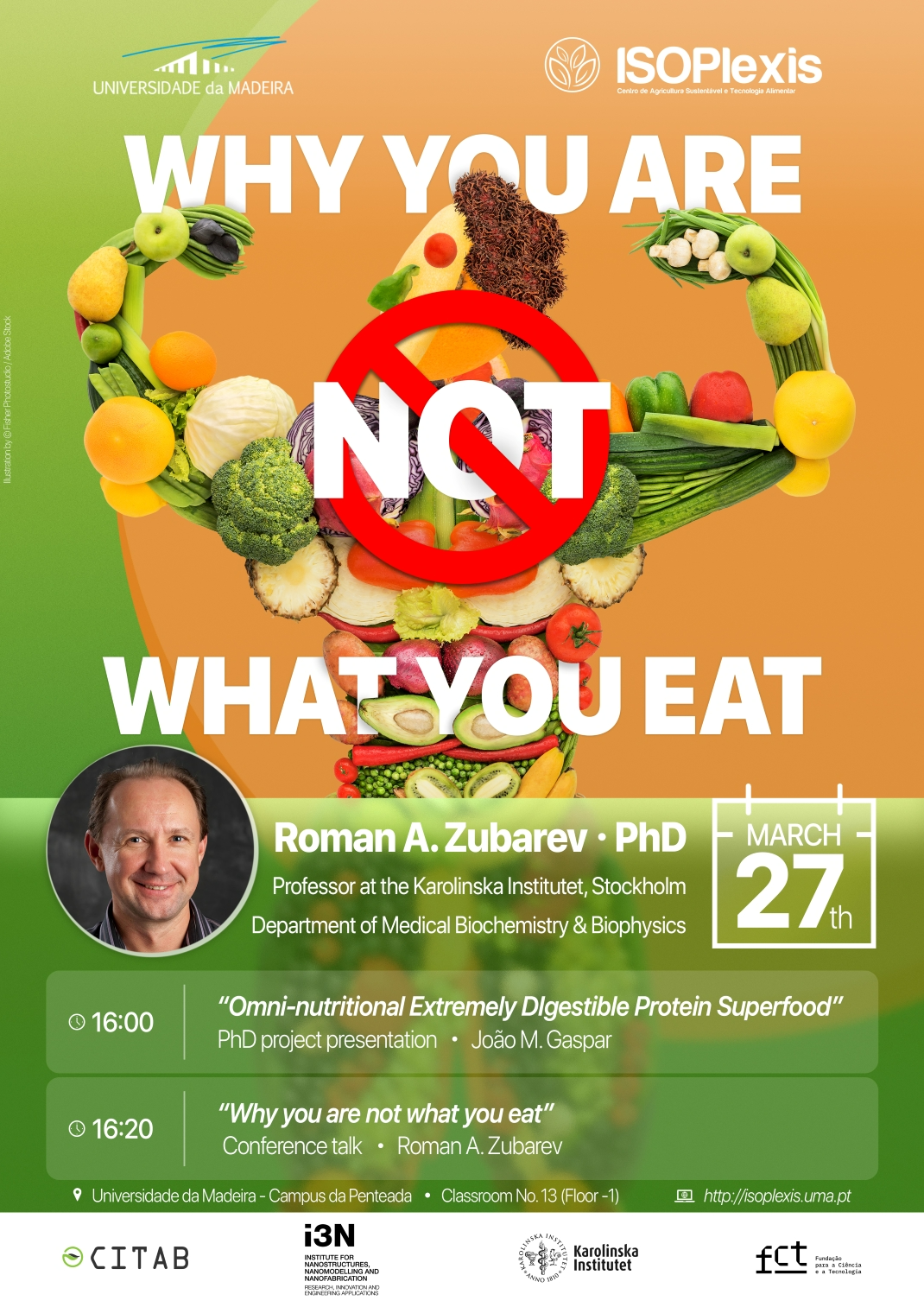 Publication Date: 24/03/2023
Conference: Why you are not what you eat
O ISOPlexis - Centro de Agricultura Sustentável e Tecnologia Alimentar, unidade de investigação da Universidade da Madeira, vai realizar na próxima segunda-feira, dia 27 de março, pelas 16h00, na Sala 13, no piso -1 do Campus Universitário, a conferência "Why you are not what you eat".
Roman Zubarev, responsável pela área da proteómica médica no Department of Medical Biochemistry and Biophysics do Karolinska Institutet (Estocolmo), onde desenvolve investigação na área da aplicação da espectrometria de massa em medicina e biologia, com destaque para os fenómenos de ressonância isotópica, doença de Alzheimer e origem da vida, vai procurar dar resposta à pergunta que serve de mote à conferência, prometendo desafiar o velho ditado de que "somos aquilo que comemos".
Em 2022 e 2023, Roman Zubarev promoveu a realização no Funchal do encontro Janeiro-na-Madeira (J-n-M) dedicado à proteómica e envolvendo diversos investigadores internacionais reconhecidos na área.
Precedendo a conferência, haverá também lugar à apresentação do Projeto de doutoramento do estudante do ISOPlexis/i3N João M. Gaspar, subordinado ao tema "Omni-nutritional Extremelly DIgestible Protein Superfood".
Este projeto tem como orientadores os Professores José C. Marques (ISOPlexis/i3N) e Roman Zubarev e é financiado com uma bolsa de investigação para doutoramento pela Fundação para a Ciência e a Tecnologia (2022.11331.BD).
O Centro ISOPlexis desenvolve atividade nos domínios da Agricultura, Sustentabilidade, Agroalimentar e Tecnologia alimentar, com enfoque na agrodiversidade senso lato, recursos genéticos, variedades locais, tecnologia alimentar e produtos alimentares. Tem como missão contribuir para o desenvolvimento do conhecimento e tecnologia promovendo a sustentabilidade do setor agrícola e agroalimentar, e cooperando na promoção e desenvolvimento da bioeconomia