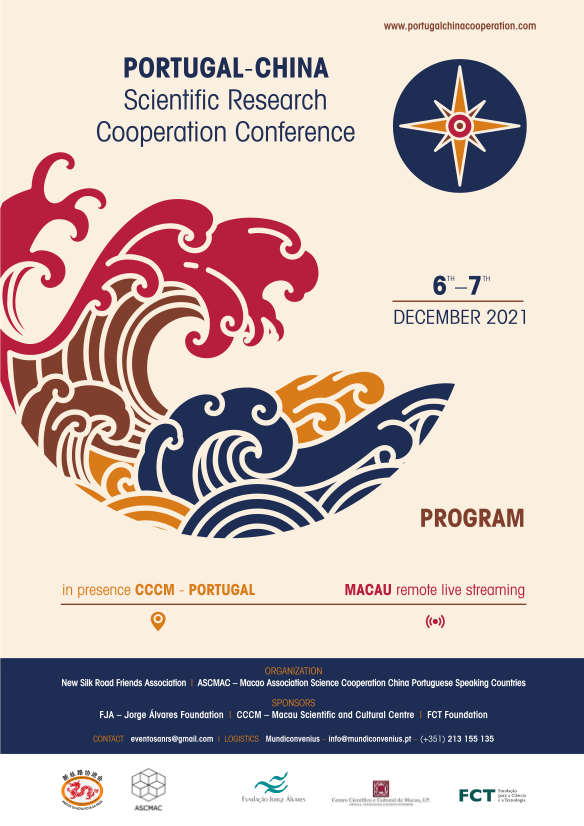 Publication Date: 03/12/2021
UMa/China cooperation highlighted at "Portugal-China Scientific Research Cooperation Conference"
O programa da conferência "Portugal-China Scientific Research Cooperation", que se irá realizar nos dias 6 e 7 de dezembro, no Centro Científico e Cultural de Macau em Lisboa e através da plataforma zoom, vai dedicar um painel de discussão à cooperação entre a Universidade da Madeira (UMa)/Centro de Química da Madeira (CQM) e a China.
O painel, intitulado "Cooperation on Chemistry, new material and Nanotechnology", está marcado para as 11h do dia 6 dezembro e irá contar com as intervenções do Reitor da UMa, Sílvio Moreira Fernandes; do Coordenador do CQM, João Rodrigues; e da bolseira de investigação do CQM, Carla Alves. Vai contar, também, com as intervenções de um antigo investigador do CQM, Yulin Li; de um docente da Donghua University e da UMa, Xiangyang Shi; e do Diretor do Institute of Biomedical Macromolecule e Investigador no Belt and Road Joint Lab on Advanced Materials da Universidade de Zhejiang, Ji Jian.
Relembre-se, a este propósito, que a cooperação institucional entre a UMa/CQM e a China, mais especificamente com a Universidade de Donghua foi reforçada em 2010, com a entrega da Cátedra em Nanotecnologias, a qual permitiu atrair especialistas internacionais, através de projetos de investigação e desenvolvimento, para a instituição de ensino superior madeirense.
A conferência "Portugal-China Scientific Research Cooperation" é organizada pela Associação Amigos da Nova Rota da Seda e a Associação em Macau para a Cooperação Científica entre a China e os Países de Língua Portuguesa, com a colaboração da Fundação Jorge Álvares, do Centro Científico e Cultural de Macau e da Fundação para a Ciência e a Tecnologia. Este evento visa reunir investigadores portugueses e chineses, das mais variadas áreas científicas, com o intuito de apresentar o trabalho conjunto e abordar as relações sino-portuguesas particularmente no que diz respeito ao ensino superior e à investigação científica, desde o seu desenvolvimento inicial até às tendências atuais.
A sessão de abertura da conferência está agendada para as 09h30 do dia 6 de dezembro, e vai contar com a presença do Embaixador da República Popular da China em Lisboa, Zhao Bentang, e do Secretário de Estado Ciência, Tecnologia e Ensino Superior, João Sobrinho Teixeira.