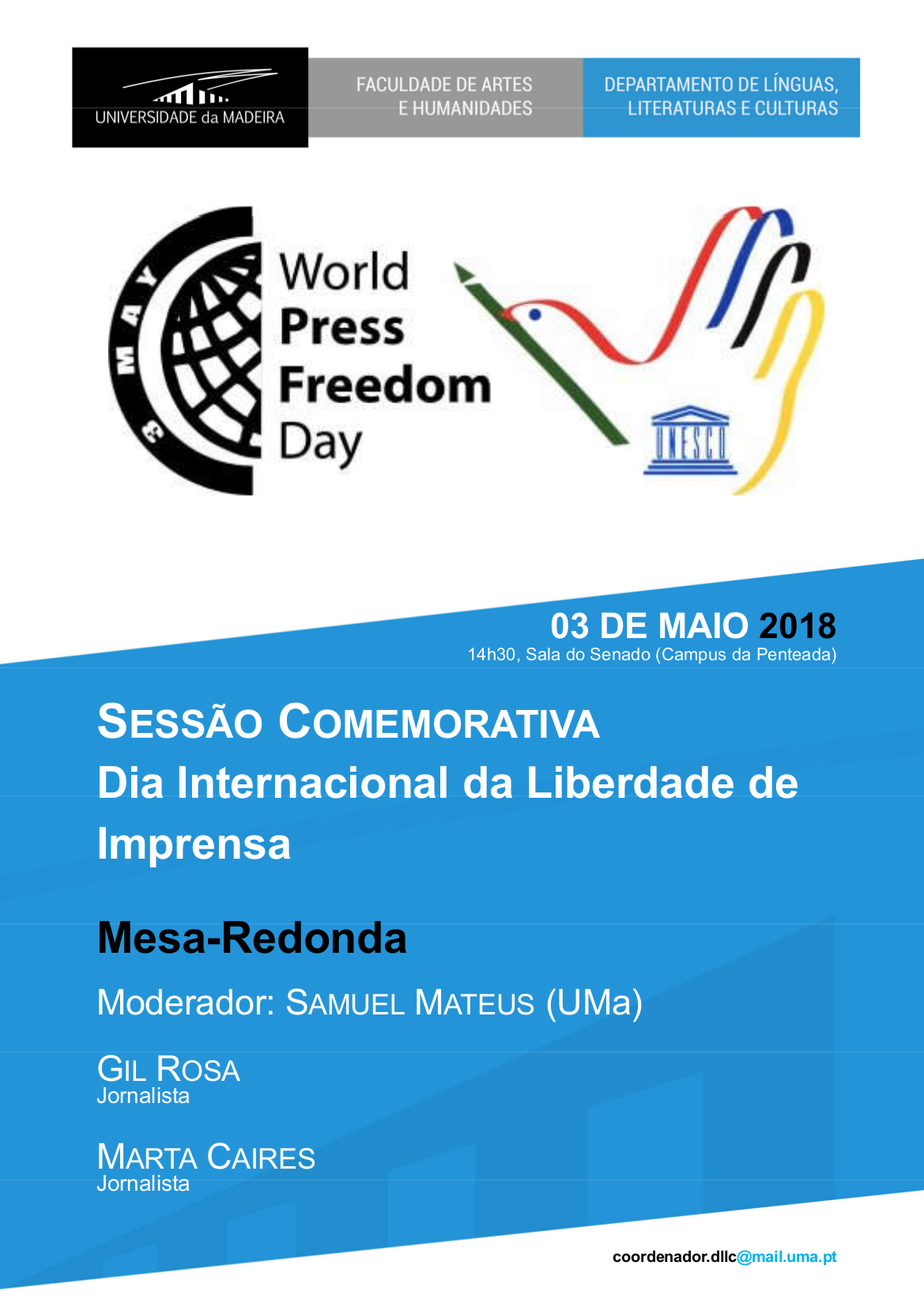 Publication Date: 02/05/2018
O Departamento de Línguas, Literaturas e Culturas da Universidade da Madeira (UMa) vai realizar amanhã, dia 03 de maio, uma conferência e uma mesa-redonda.

A conferência, organizada com o apoio do Centro e Estudos Clássicos e Humanísticos da Universidade de Coimbra, intitula-se "The rise and defamation of Ancient Greek Democracy and the election of Mr. Trump" e será proferida por Robert W. Wallace, da Universidade de Northwestern, a partir das 10h30, na Sala do Senado, no piso – 2 do Campus da Penteada.

Robert W. Wallace é doutorado pela Universidade de Harvard e as suas principais áreas de investigação são, sobretudo, a historiografia grega antiga, a literatura grega e o direito antigo, bem como a teoria musical. Atualmente está a concluir a publicação de livros sobre Sófocles, Tucídides e Platão.

Também na Sala do Senado, no piso -2 do Campus da Penteada, das 14h30 às 16h30, irá realizar-se uma mesa redonda comemorativa do Dia Internacional da Liberdade de Imprensa com a presença de Gil Rosa, jornalista da RTP Madeira, e Marta Caires, jornalista correspondente do Expresso. A moderação estará a cargo do Prof.º Doutor Samuel Mateus, docente da Faculdade de Artes e Humanidades da UMa.

Proclamado pelas Nações Unidas, em 1993, o dia 3 de maio recorda os princípios fundamentais da Liberdade de Expressão (contemplada, em 1948, na Declaração Universal dos Direitos Humanos) e, especificamente, da Liberdade de Imprensa reconhecendo o trabalho dos jornalistas na
preservação deste direito e homenageando aqueles que perderam as suas vidas no exercício da profissão. É uma ocasião global de refletir sobre os ataques à independência dos órgãos de comunicação social e, simultaneamente, avaliar o estado atual da liberdade de imprensa. O Dia
Internacional da Liberdade de Imprensa representa o compromisso, por parte de Estados, Instituições, Jornalistas e Cidadãos, de respeitar a liberdade de informar e ser informado e de renovar o empenho em defender os constrangimentos, limitações ou censura na atividade
jornalística.

Ambas as iniciativas têm entrada livre e são abertas ao público em geral, bem como a toda a comunidade académica.