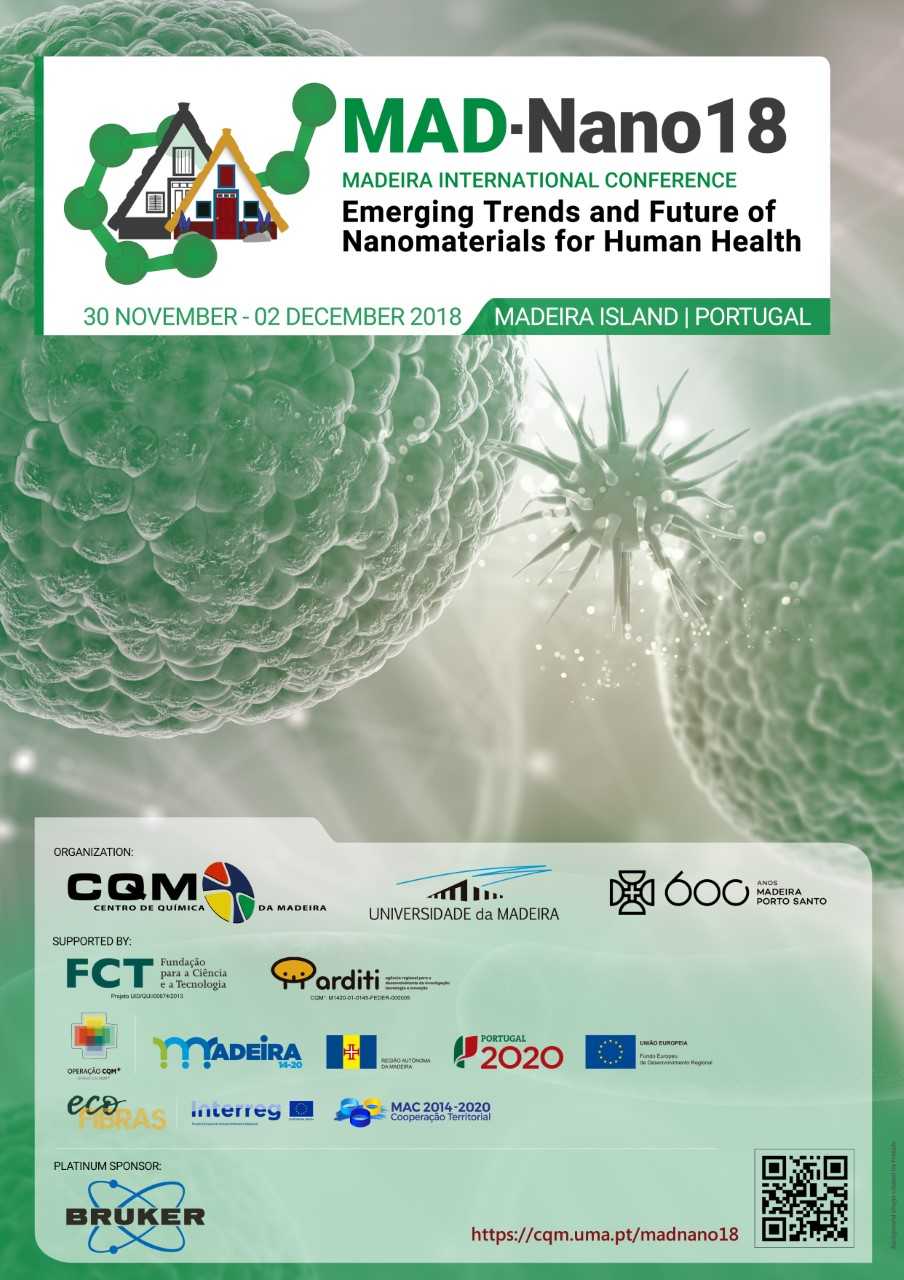 Publication Date: 18/07/2018
MAD-NANO18: Emerging Trends and Future of Nanomaterials for Human Health
Diversos especialistas na área da Saúde, da Química, Bioquímica, Farmácia e Materiais vão estar reunidos no Funchal, de 30 de novembro a 2 de dezembro, na "
MAD-NANO18: Madeira International Conference on Emerging Trends and Future of Nanomaterials for Human Health
". Esta conferência é organizada pelo Centro de Química da Madeira, unidade de investigação sediada na Universidade da Madeira e apoiada pela FCT e pela ARDITI, e tem como objetivo apresentar os mais recentes resultados e discutir o futuro dos nanomateriais para aplicações na saúde humana. Neste âmbito, e numa série de sessões plenárias, serão abordados de entre outros, os seguintes tópicos: Biomarcadores e as Nanopartículas; Bionanomateriais e Engenharia de Tecidos; Biossensores, Diagnósticos e Imagiologia; Nanotecnologia no Combate ao Cancro: Diagnóstico, Imagiologia e Tratamento; Nanotecnologia baseada em ADN para Aplicações Biomédicas; Nanomateriais para a Administração de Fármacos e Genes; Nanobiotecnologia; Nanomateriais para Doenças Infecciosas; Nanotoxicologia; Nanoestruturas Péptidas. Confirmadas estão já as presenças de quatro keynote speakers notáveis nas suas áreas de especialização: Alexander Schaetz, da Empresa Syngenta Crop Protection AG (Suiça), analisa o tema "
Nanotechnology's Potential for Agrochemistry
", Claire Mangeney, da University Paris Descartes(França), aborda "
New Advances in Hybrid Plasmonic Nanoparticles for Biomedical Applications
", Jian Ji, da Zhejiang University(China), discute "
Mix-charged Bionanointerface: From Smart to Self-adaptive
", e João Mano, do CICECO - Instituto de Materiais de Aveiro, reflete sobre "
Multilayered 3D- structures from nano-assembled multilayers for biomedicine<7i>". Os interessados em apresentar trabalhos na MAD-NANO18 devem fazer chegar os respetivos resumos até ao dia 15 de setembro, através do endereço http://bit.ly/MADNano18.