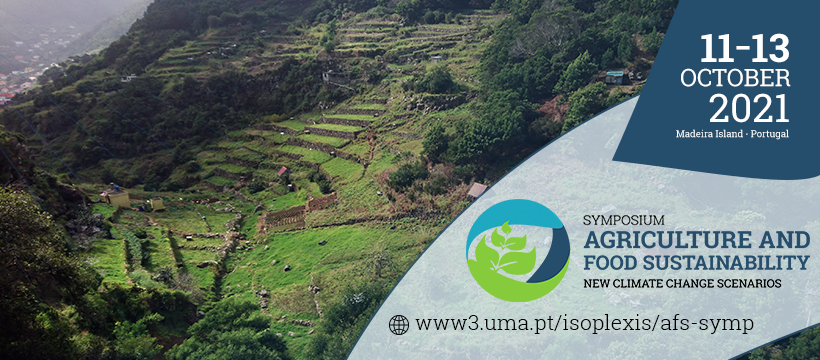 Publication Date: 05/03/2020
Simpósio "Agriculture and Food Sustainability: New Climate Change Scenarios" - NOVAS DATAS
The Madeira University through the ISOPlexis - Centre in Sustainable Agriculture and Food Technology, in collaboration with regional partners, are delighted to announce the Symposium in "Agriculture and Food Sustainability: New Climate Change Scenarios" that will take place from
21th to 23rd June 2021
, October 11 to 13, 2021 at Funchal, Madeira Island, Portugal.
Save this date in your agenda and subscribe our mailing list to receive updated information about the Symposium!
Site
**************************************************
A Universidade da Madeira, através do ISOPlexis - Centro em Agricultura Sustentável e Tecnologia Alimentar, em colaboração com entidades regionais, têm o prazer de anunciar a realização do Simpósio "Agriculture and Food Sustainability: New Climate Change Scenarios", a decorrer entre
21 e 23 de junho de 2021
11 e 13 de outubro de 2021, no Funchal, Madeira, Portugal.
Tome nota desta data e subscreva a lista de divulgação do Simpósio para receber informações sobre a sua realização.
Página