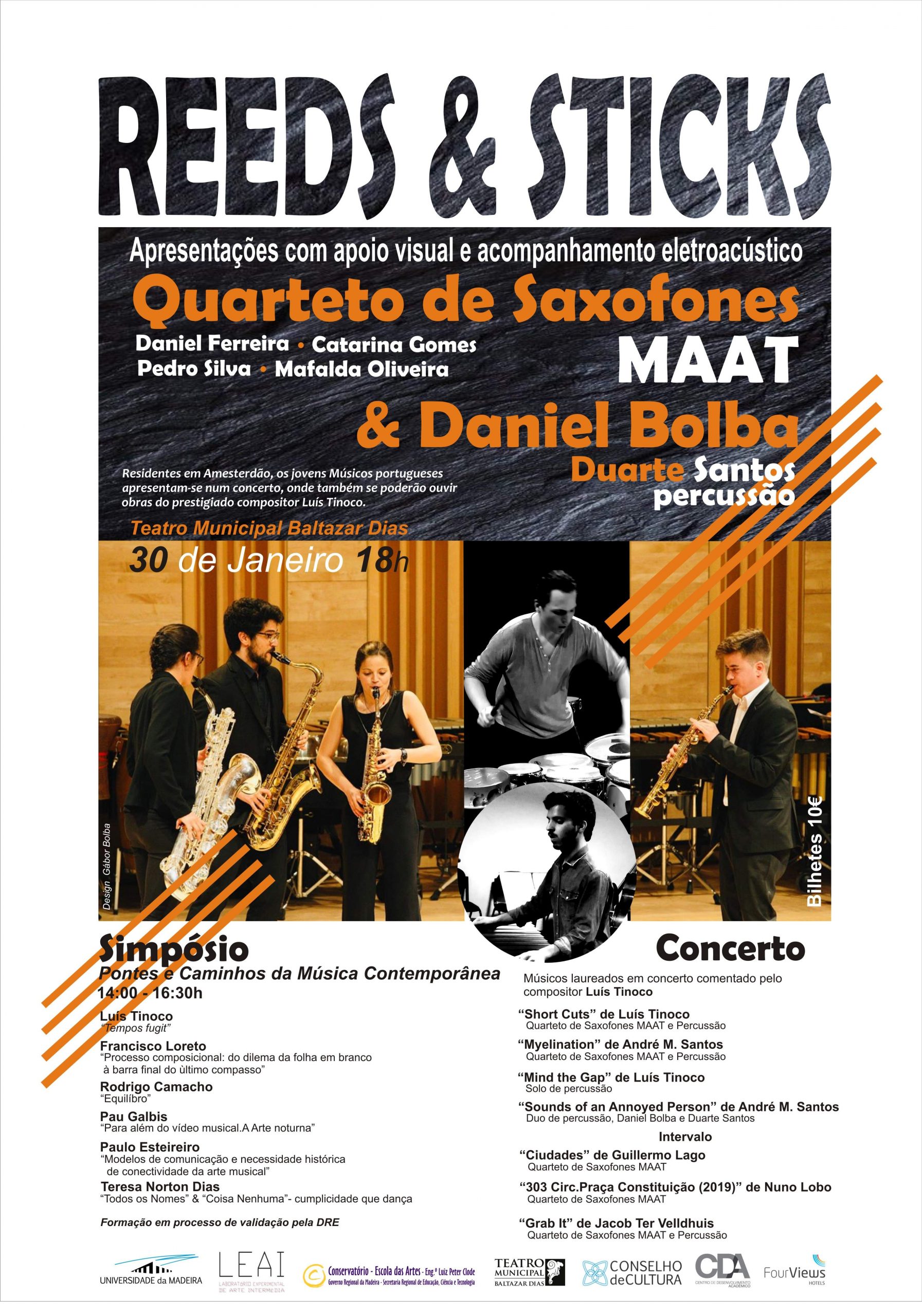 Publication Date: 14/01/2020
Simpósio "Pontes e Caminhos da Música Contemporânea"
Laboratório Experimental de Arte Intermedia – Conselho de Cultura Universidade da Madeira
Projeto: Aniko Harangi Coordenação: Duarte Encarnação
Instituições envolvidas:
LEAI – CC . Laboratório Experimental de Arte Intermedia – Conselho de Cultura/UMa CEPAM . Conservatório Escola Profissional das Artes da Madeira, Engº Luíz Peter Clode TMBD . Teatro Municipal Baltazar Diaz – Câmara Municipal do Funchal
Pontes e Caminhos da Música Contemporânea
Laboratório Experimental de Arte Intermedia (LEAI) integrado no Conselho de Cultura da Universidade da Madeira, organiza para o próximo dia 30 de janeiro um simpósio subordinado ao tema «Pontes e Caminhos da Música Contemporânea». Consistindo numa aproximação aos domínios da arte dos sons e de outras manifestações artísticas, o encontro prevê um concerto e uma formação especializada, no todo, trata de um momento de reflexão sobre o artista e a linguagem, tónicas dominantes para uma diluição ou hibridação dos meios e ainda, se quisermos, discutir a hipótese do intermédia como lugar alternativo. Quando se aborda a variedade das práticas artísticas que se fazem nos nossos dias, desde a música, as artes visuais, a dança, entre outras, deparamo-nos com um distinto universo de linguagens, sendo naturalmente próprias de um tempo e do seu criador, fruto de uma identidade moldada em dominantes ideológicas concordantes ou discordantes. A panóplia destas linguagens e/ou abordagens estéticas constituem o reflexo de uma contemporaneidade questionável que opera numa constante realidade reflexiva. A música contemporânea – a arte dos sons que se faz nos nossos dias – assume-se pois, como uma evolução do Pós-modernismo, circunscrita numa lógica de diversidade e de expansão, onde cada compositor gere o seu espaço, o seu público, a sua credibilidade e legitimação. Esta característica de pertença pode ser fruto da procura individual do artista, numa atitude de autenticação do seu percurso existencial, sendo ele também o criador de um caminho. Todavia, esse caminho ou ponte individual consiste também num cruzamento ou bifurcação que une e partilha o lugar comum ou centro de encontro universal, se quisermos, a música ou arte contemporâneas vivem desta condição, uma simbiose de permuta consciente e inconsciente que traduz a construção de "novas" obras.
Dia 30, quinta-feira
14:30 – 16:30 H | Teatro Municipal Baltazar Dias
Simpósio
Luís Tinoco :
"Tempus fugit"
Francisco Loreto:
«Processo composicional: do dilema da folha em branco à barra final do último compasso»
Rodrigo Camacho:
Equilíbrio Intervalo
Pau Galbis:
"Para além do vídeo musical. A Arte noturna"
Paulo Esteireiro:
"Modelos de comunicação e necessidade histórica de conectividade da arte musical"
Teresa Norton Dias:
"Todos os Nomes" & "Coisa Nenhuma" - cumplicidade que dança" debate 18 H
Concerto
(comentado pelo Compositor Luís Tinoco)
"Reeds & Sticks" Recital de quarteto de saxofones e percussão
MAAT Saxophone Quartet
(Catarina Gomes, Daniel Ferreira, Pedro Silva, Mafalda Oliveira: prémio jovens músicos 2018) + Daniel Bolba e Duarte Santos (percussão) - "
Short Cuts
" Por Luís Tinoco (MAAT e percussão) - "
Myelination
" Por André M. Santos (MAAT) - "
Mind the Gap
" Por Luís Tinoco (solo de percussão) "
Sounds of an Annoyed Person
" - Por André M. Santos (duo de percussão) Intervalo - "
Ciudades
" Por Guillermo Lago (MAAT) - "
303 | Circ. Praça Constituição (2019)
" Por Nuno Lobo (MAAT) - "
Grab It
" por Jacob Ter Velldhuis (MAAT e percussão)
Dia 31 sexta-feira | CEPAM
Luís Tinoco: Formação para Professores do CEPAM Masterclass pelo MAAT Saxophone Quartet Irene Rodrigues (coordenação LEAI / CEPAM)
Formação: Luís Tinoco
Simpósio (14-17 h) 3 h Concerto comentado 2 h (18 – 20 h) Masterclass no CEPAM 4 h (9-13 h) Tarde conferência no CEPAM (14 – 18 h) 4 h Total: 13 H
Inscrições
Até 28/01/2020, através do formulário disponível
aqui
. É gratuito para alunos do CEPAM e da UMa. Para os pais dos alunos do CEPAM há um desconto de 50 %.
Nota
O Simpósio está em fase de validação pela DRE. Os inscritos poderão optar por fazer um relatório sobre as comunicações ou uma comunicação específica que depois será avaliada (para o corpo docente do conservatório ou escolas).
Sobre MAAT Saxophone Quartet