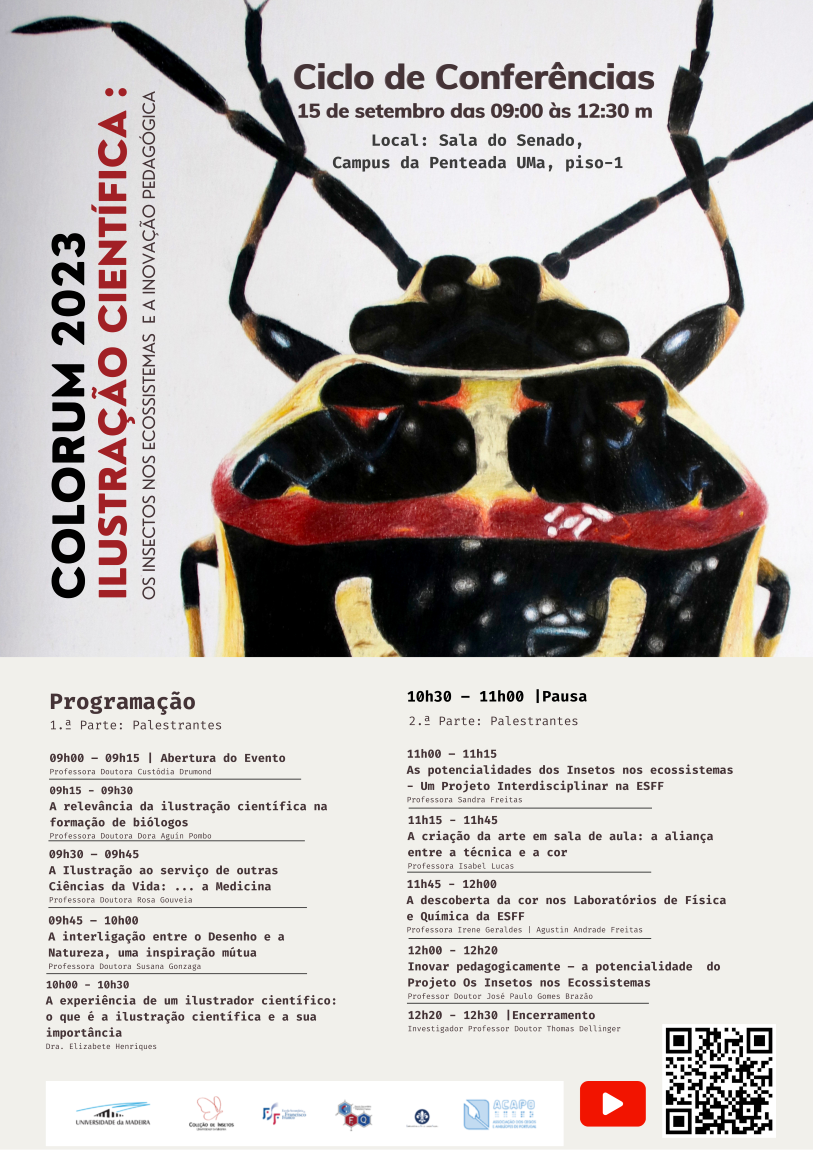 Publication Date: 13/09/2023
Conference Cycle and Exhibition "COLORUM Scientific Illustration: Insects in Ecosystems and Pedagogical Innovation"
A Coleção de Insetos da UMa (UMACI) e a equipa interdisciplinar da Escola Secundária Francisco Franco (ESFF), constituída por docentes das áreas do Desenho A, Física e Química e Sociologia, um coletivo de professores e investigadores, dinamizadores do Projeto "AS POTENCIALIDADES DOS INSECTOS NOS ECOSSISTEMAS", no ano letivo de 2022-2023, realizam a EXPOSIÇÃO | COLORUM e o CICLO DE CONFERÊNCIAS "ILUSTRAÇÃO CIENTÍFICA: OS INSETOS NOS ESCOSSISTEMAS E A INOVAÇÃO PEDAGÓGICA", na Universidade da Madeira.
O evento integra uma exposição de ilustrações de insetos dos alunos 11ºano de escolaridade, da Escola Secundária de Francisco Franco, do Curso das Artes Visuais, intitulada EXPOSIÇÃO | COLORUM, patente na UMa de 15 de setembro a 11 de outubro de 2023, e um ciclo de oito palestras a abrir o Evento COLORUM 2023, no dia 15 de setembro, na Sala do Senado, Piso -1; na UMa (Penteada).
A exposição é o resultado de um projeto de inovação pedagógica, que nasce de uma parceria entre a FEP, a Coleção de Insetos da Universidade da Madeira (UMACI) e a ESFF.
Este projeto interdisciplinar que versa "As Potencialidades dos insetos nos Ecossistemas" envolveu alunos do 12º ano da Química e de 11ºano das Artes e Ciências. As ilustrações dos insetos criadas pelos alunos das artes realçam a complexidade da criação da Ilustração Científica, onde se procura aliar o rigor anatómico do inseto à beleza artística, respeitando as técnicas de desenho trabalhadas academicamente, em contexto de sala de aula.
Os alunos das Ciências e Tecnologias, em atividades laboratoriais obtiveram o carmim, um corante natural produzido a partir da cochonilha (Dactylopius coccus), muito utilizado na alimentação e na medicina, tendo estes como objetivo último, a sua extração para utilização futura nas pinturas dos insetos a reproduzir. O projeto educa para a sustentabilidade e destaca a importância da conservação dos insetos como elementos indispensáveis ao equilíbrio dos ecossistemas e ao bem-estar humano.
As palestras afloram a importância da ilustração científica e o seu contributo na procura de soluções mais consentâneas com a natureza, reforçando seu importante papel na formação superior de médicos e biólogos, no processo da sua formação. Os alunos quando fazem as ilustrações, aprendem a descrever conceitos, pormenores e teorias complexas com maior clareza e rigor.
A arquitetura pedagógica e científica deste projeto permite a sua análise sob uma lente de inovação pedagógica, com o destaque sobre a potencialidade das novas práticas.

Clique aqui para aceder ao programa completo (ciclo de conferências e exposição)