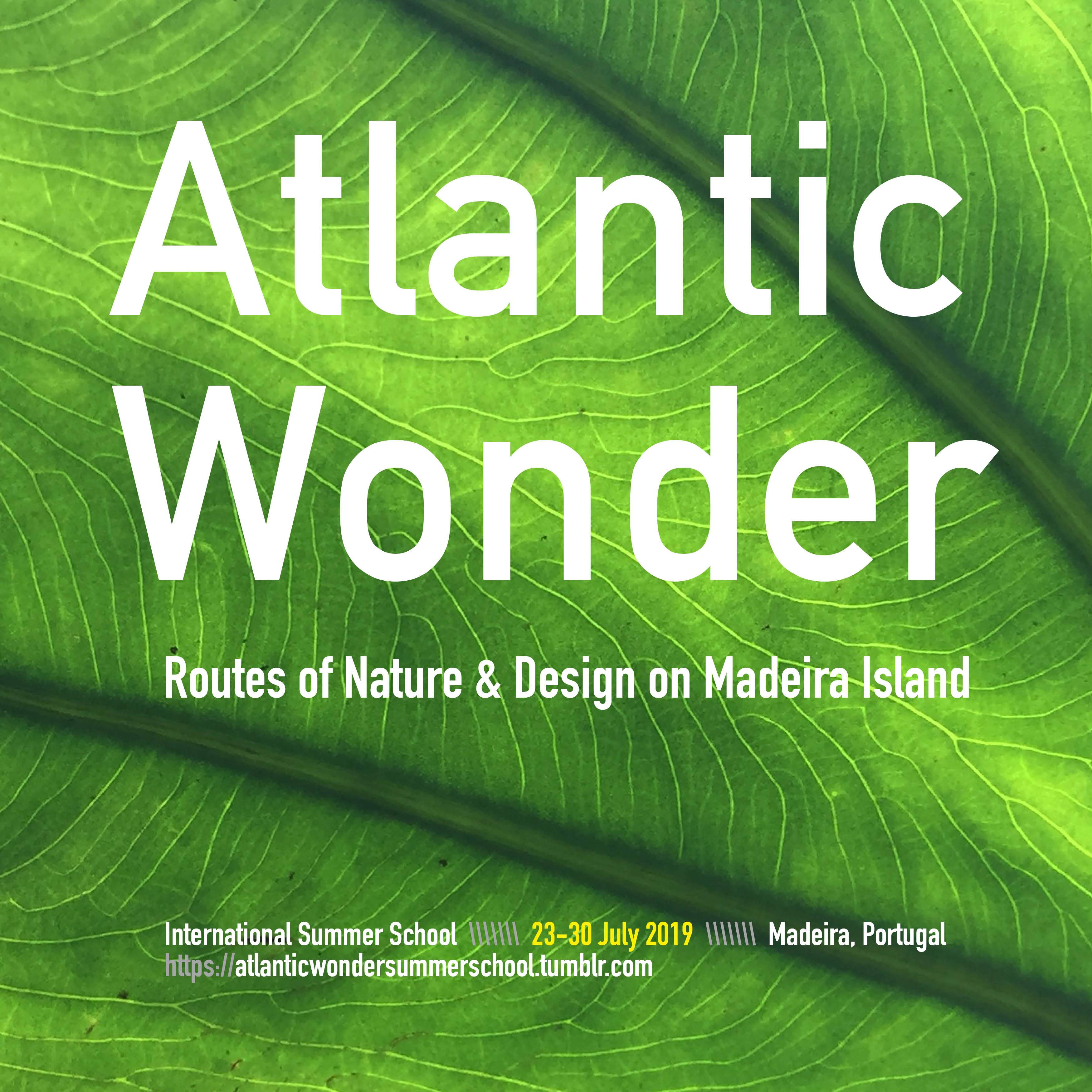 Publication Date: 24/06/2019
Madeira will host the second edition of the Atlantic Wonder Summer School from 23–30 July 2019. The island's rich biodiversity and varied natural ecosystems make it the perfect living lab to experiment with and shape a Nature Centred Design approach.

This year we will focus on tools and methods that are used in the natural sciences. We will explore ways to apply these in order to learn about the complex interconnections within natural mechanisms and systems.

The first step in shifting from a human-centred to nature centred design approach is to understand nature's rhythms and needs. Through direct experiences and activities in nature, the participants will reflect upon the relationship between the natural sciences and design. By bridging these two worlds we aim to foster insights that can inform the public about natural cycles, routes and rhythms. Participants will interact with experts from a range of disciplines in the natural sciences and design, developing an interdisciplinary approach towards sustainable development.

Objectives
For this second edition of the Atlantic Wonder Summer School, we aim to learn how the natural sciences can provide tools and methods for observing, analysing and understanding nature. We will experiment with these tools during our walks and activities in the breathtaking Laurissilva Forest (a UNESCO World Heritage Site) with the guidance of botanists and biologists from several Madeiran research centers.We will explore ways to discuss the natural sciences with non-scientific audiences and consider how to communicate the significance of natural ecosystems, cycles, routes and rhythms in Madeira. We aim to enhance discussions within the local community about how to build more sustainable, nature centric ways of living, educating and designing.

Who can join Atlantic Wonder 2019?
The summer school is open to any field of study, research and practice. Students, researchers and practitioners of any age and experience are welcome! The programme aims to encourage collaboration and an interdisciplinary approach to problem-solving.

Student participants will be eligible for 6 ECTS educational credits.
A Certificate of Participation will be provided awarded to each attendee that completes the summer school.

For more details about admission and fees, please visit: https://atlanticwondersummerschool.tumblr.com/registration
Please, do not hesitate to contact us for further information at: summerschoolmadeira@gmail.com

Atlantic Wonder is an initiative of the Art & Design Department, University of Madeira. Our partners include Paco Design Collaborative, the Marine Biology Station of Funchal and the Natural History Museum of Funchal.
Publication Date: 14/10/2019
Publication Date: 09/10/2019
Publication Date: 15/10/2019
Publication Date: 09/10/2019
Publication Date: 08/10/2019
Publication Date: 10/10/2019
Publication Date: 09/03/2019
Publication Date: 25/09/2019