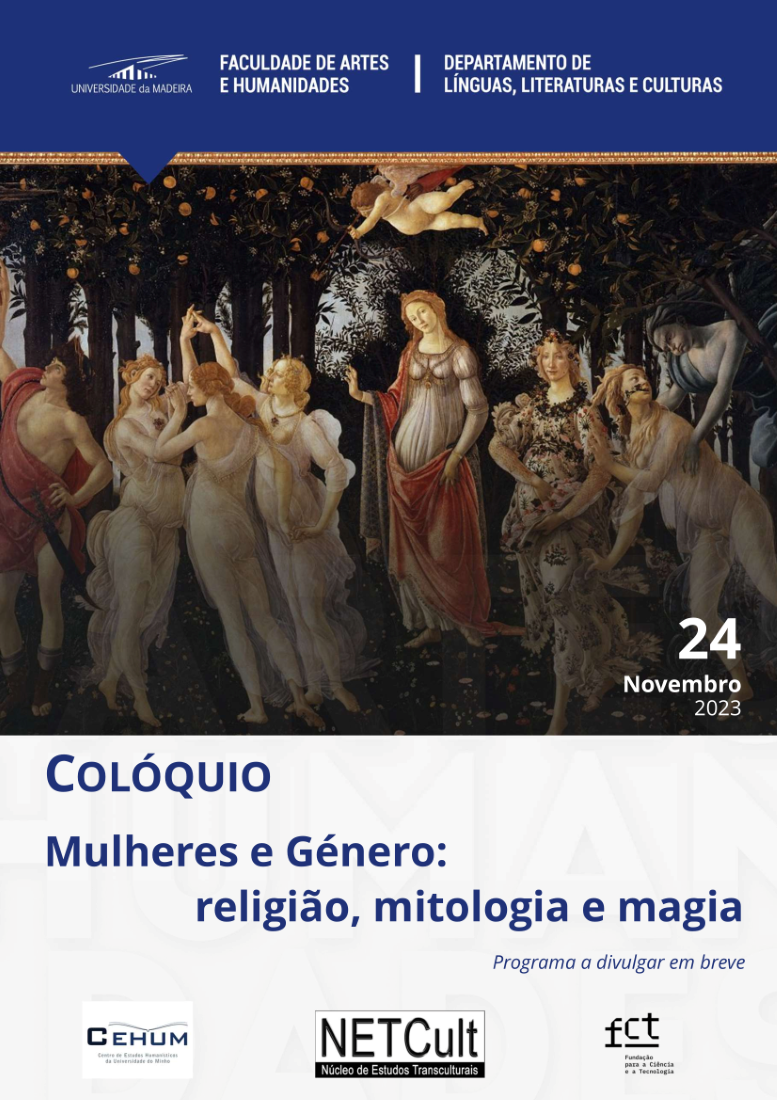 Publication Date: 06/11/2023
Colloquium: Women and Gender: religion, mythology and magic
O Departamento de Línguas, Literaturas e Culturas da Faculdade de Artes e Humanidades da Universidade da Madeira vai promover
no próximo dia 24 de novembro o Colóquio "Mulheres e Género: religião, mitologia e magia".
O colóquio terá lugar na Sala do Senado, no piso - 2 do Campus da Penteada, entre as 09h15 e as 18h00. Confere certificado de participação.
PROGRAMA
9h
Recepção – Sala do Senado (Piso -2)
9h15
Sessão de Abertura
9h30 – Sessão 1 (Sala do Senado)
António Freitas | CEHUM-UM
"A ŠU.GI hitita: feiticeira ou curandeira?"
Nelson H. S. Ferreira | CECH-UC
"Inana, natureza e a mulher: sexo e vida na literatura suméria"
10h30 – Sessão 2 (Sala do Senado)
Adriano Cordeiro | CEHUM-UM
"Medeia, mulher, feiticeira e deusa"
Leonor Cordeiro | CEHUM-UM
"Breve viagem pela Literatura Grega Antiga: Retratos femininos idealizados por Álcifron e outros autores masculinos"
Intervalo
11h45 – Sessão 3 (Sala do Senado)
Cristina Santos Pinheiro | UMa, CEC-UL
"Superstições e amuletos relacionados com o parto nos textos de medicina antiga"
Joaquim Pinheiro | UMa, CECH-UC
"As mulheres nas quaestiones de Plutarco: apontamentos sobre a identidade cultural"
13h: Almoço
14h45 – Sessão 4 (Sala 3)
Gabriel Silva | FLUL, CEC-UL
"Elementos de magia na peça quinhentista O Auto dos Enanos: algumas observações"
Rui Carlos Fonseca | UMa, CEC-UL
"Dos poemas homéricos para a épica portuguesa seiscentista: a presença de Circe e de Hera na Ulisseia de Gabriel Pereira de Castro"
Intervalo
16h – Sessão 5 (Sala 3)
Inês Tadeu | UMa, CEHUM
"A bruxa da aldeia no conto popular madeirense"
Francisco Bravo de Laguna | ULPGC, IATEXT
"El hechizo de Medea en las indígenas americanas. Una revisión del mito en la tragedia de la conquista"
Intervalo
17h10 – Sessão 6 (Sala 3)
Paula Alexandra Guimarães | CEHUM-UM
"Rewriting the History of Mythical Women: Augusta Webster and the Voices of Joan Arc, Circe and Medea (1870-1890)"
Elena Bollinger | UMa, CEAUL-UL
"The Shifting Light of History": Revising Discourses on Religion in Elizabeth Finch"
18h – Sessão de Encerramento
Clique
aqui
para aceder/fazer o download do programa em formato pdf.