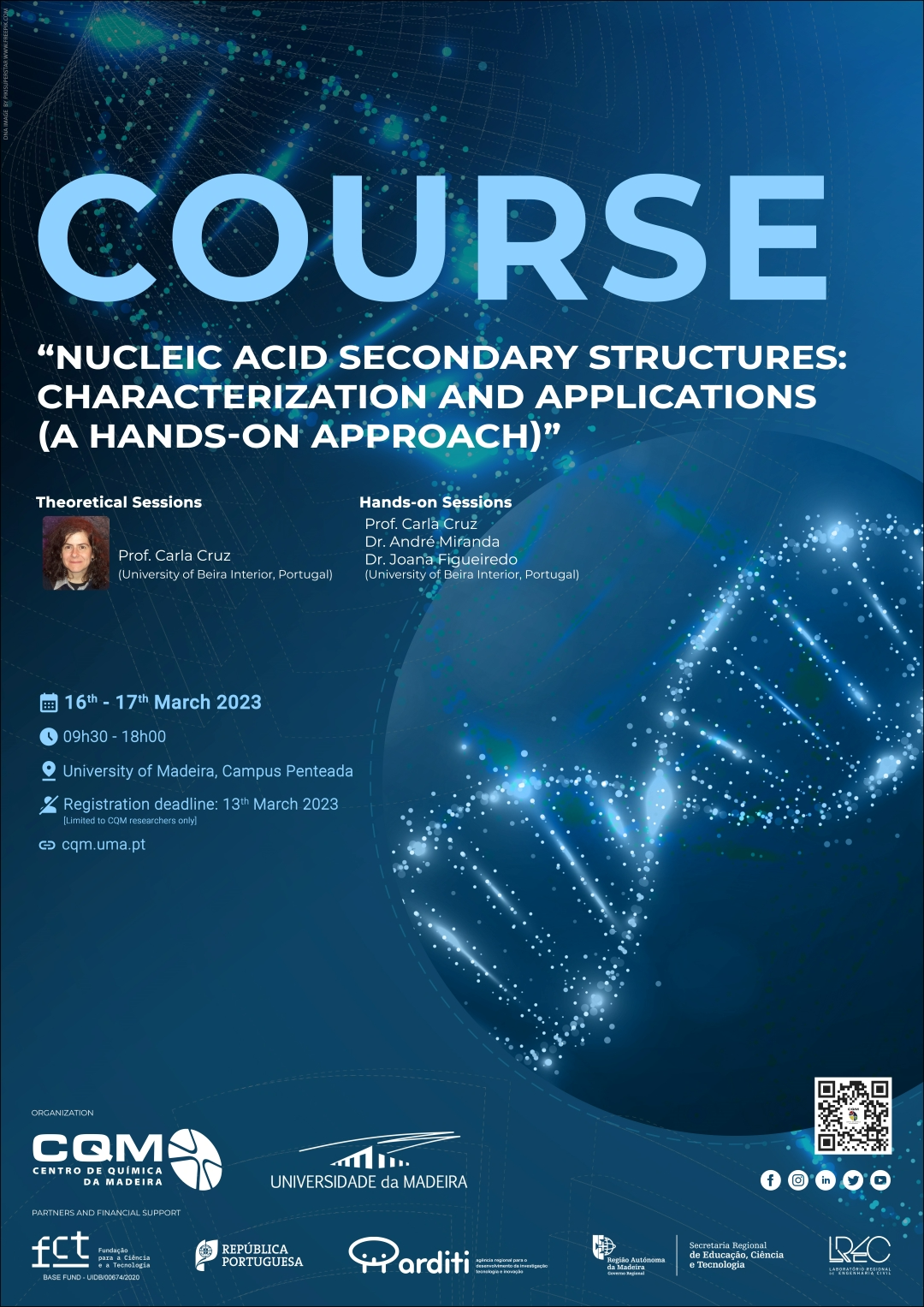 Publication Date: 01/03/2023
Course: Nucleic acid secondary structures: characterization and applications (a hands-on approach)
O Centro de Química da Madeira (CQM), unidade de investigação nacional financiada pela FCT e pela ARDITI(SRECT), vai organizar, nos dias 16 e 17 de março, das 09h30 às 18h00, um curso sobre as "Estruturas secundárias de ácidos nucleicos: caraterização e aplicações (uma abordagem prática)".
Este curso integra-se no âmbito das atividades de formação avançada de recursos humanos do CQM e será ministrado pela Professora Doutora Carla Cruz, investigadora do Centro de Investigação em Ciências da Saúde da Universidade da Beira Interior e líder do grupo de investigação G4Lab.
A participação é exclusiva para estudantes de doutoramento, mestrado, e demais investigadores do CQM, estando sujeita a inscrição obrigatória até 13 de março, através do preenchimento de formulário disponível na página eletrónica do Centro https://cqm.uma.pt.
A deslocação à Madeira da Professora Carla Cruz surge na sequência da sua participação, conjuntamente com os investigadores seniores do CQM, Helena Tomás e João Rodrigues, na rede pan-europeia "Nano2Clinic: Cancer Nanomedicine from the Bench to the Bedside" (COST Action CA17140) financiada pelo COST-European Cooperation in Science and Technology. A COST Action CA17140, é a primeira rede interdisciplinar pan-europeia de representantes de instituições académicas e de pequenas e médias empresas, incluindo organizações de investigação clínica, dedicada ao desenvolvimento de nanosistemas transportadores de medicamentos anticancerígenos, desde a sua conceção inicial, testes pré-clínicos de eficácia, farmacocinética, e toxicidade, até à preparação de protocolos necessários para a primeira fase dos respetivos estudos clínicos.